Despite the recession prompting cut-backs in company spending (and the public sector in particular) corporate hospitality is still one of the most popular and effective ways to network and get your brand known. Learn how you can use our corporate planters to liven up your event or location.

So you'll want your firm to have a physical presence décor-wise at whatever venue you choose – whether it's a glitzy hotel function room, a hospitality box at a favourite racecourse or even onboard a boat for a day's cruise. One way to do this is to scatter company literature on bars and coffee tables and even erect pull-up screens with your firm's logo in the corner of the room.
However, a more subtle, but dramatic way, to make your company's presence felt is to organise to have steel planters custom designed so that they're powder coated in your corporate colours – either with or without your logo (often just the colours are enough to trigger recognition of the brand).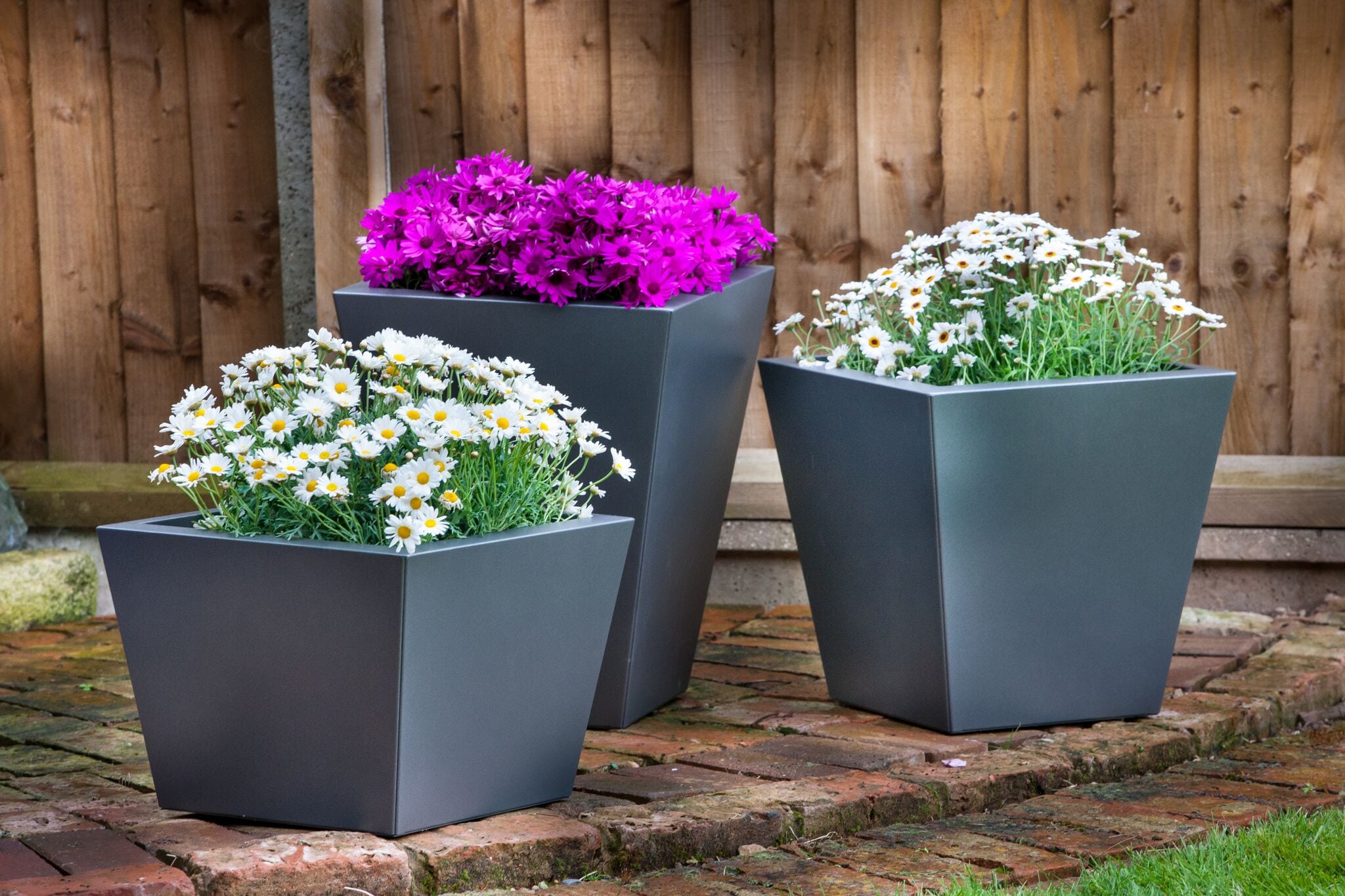 Galvanized steel planters are hardy enough to withstand the rigours of being moved around for makeshift venues. They're also heavy enough (if weighed down with stones) to avoid being pushed over if your event really takes off and some your guests get a bit on the boisterous side.
Different types of planters
+ Two symmetrical rows of large, tall empire or tailor shaped planters filled with bay trees or in fact any other sculpted boxwood plant are an impressive way of indicating a makeshift aisle whether it's directing guests towards a stage or to the entrance of the room itself.
+ Troughs are extremely popular these days and an excellent way of dividing one area from another, such as dining and lounge, without giving the impression that you're segregating everyone. Because troughs tend to be long and narrow rather than tall, you won't need as many as you would were you to separate the area with upright planters. As a result a design with troughs will be less expensive as well as neater looking. Gardeners tend to prefer troughs as they provide a bigger space in which to create a more elaborate plant design.
+ Bowl planters have both a classic and a modern look to them. Being low slung it's best to place them on a sideboard or some other kind of platform otherwise if left lying on the floor they could prove too easy to trip over. And no company wants to have to deal with a big insurance claim! Steel planters can also be used to great effect to line a stairway.
Planters for outdoors use
There's certainly a more casual look about most outdoor venue spaces these days, whether it's in a hotel, restaurant or bar. They're often quite funky too, which is where our vivid coloured planters come in. However, they ARE outdoors so when it comes to arranging planters it's always a good idea to weigh them down with stones in the event of any unforeseen high winds.
If you'd like an idea of how planters could benefit your corporate hospitality venue then please contact us at Precious Design and we'd be happy to discuss your plans.