Prepare for Summer: Get some hints and tips for planting into Pots, Troughs and Window Boxes from Precious Design, and learn how to use your planters to maximum effect!

So we know that containers aren't exactly the most natural place for any plant, but there's no reason why we can't, after a little TLC, make them feel at home. Here are a few tips to help the process and hopefully allow your plants to thrive and grow.
A little obvious, but firstly, make sure you position any large planter in its correct place before you start to add weight to it. No point in putting your back out before you start!
+ If you're using an old planter, please make sure you clean it down inside and out before you re-fill – don't want any creepy crawlies invading your precious new plants.
+ Drainage, drainage, drainage! You don't want the soil to become waterlogged so make sure you've plenty of drainage holes in the base of your planter and to avoid leakage of soil onto your prize patio, place some broken old pottery or tiles in the base of your planter.
+ Decide on the purpose of your planter. Do you want to put a long term plant (i.e. tree) into it, or would you rather change your plants from season to season? If it's the latter, then it would be best to keep your plant in a smaller pot inside your main planter.
+ If you're planting shallow rooted plants, fill the lower part of your planter with empty plastic water bottle or polystyrene peanuts or bark chippings. You could also fill the space in your planter with an upside down plastic pot.
+ Chose the compost appropriate to your plant and add some water-holding granules to the compost before filling your planter. Don't be tempted to overdo it here though because too many granules will leave you with a jelly- in- a- pot!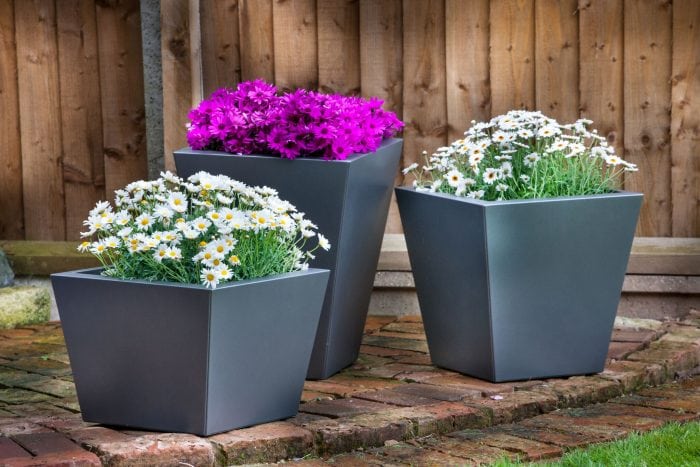 + Don't rush the filling of your planter. Patience is a virtue so do it in layers so that you're able to compress each layer before laying the next and take the compost up to about 1″ below the rim of your planter.
+ Make holes in your compost so that you can insert your plants comfortably and without damaging the roots or stems.
+ Firm your plant in place and give the planter a thorough sprinkling of water. Leave for a short time and then repeat so that your plant is firmly bedded-in and the roots are quenched. Almost there!! You could add to the attractiveness of your plant in its new planter by placing some stones or bark on the top of the soil.
+ FINALLY, don't forget to water and feed your plants. A trickle of water won't keep them alive. See the water coming out of the bottom of your planter before you stop – it's surprising how thirsty they get, particularly during the summer months.
Enjoy!